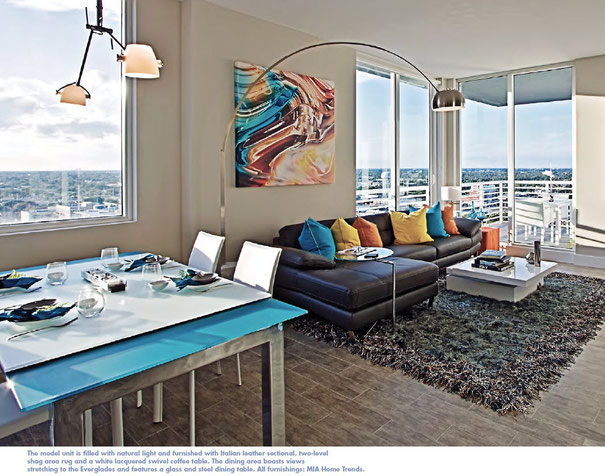 Mia Home Trends, the modern furniture store in Fort Lauderdale, FL has been featured in the March 2012 issue of Tropic Lauderdale Living & Design.
A four page editorial in this prestigous magazine covered a 1,285sqft RelatedISG convertible 2-bedroom, 2.5-bathroom model unit at Strada 315.
The unit was designed and decorated by the professional team at Mia Home Trends, lead by head designer Maria Alonso. 
This spectacular condo has a delightfully light and airy feel, with its floor to ceiling glass entrances and windows over-looking a breath-taking view starting at downtown Fort Lauderdale and reaching out to the Everglades. A glance outdoor reveals a pure white outdoor dining set, sitting high like clouds on this 17th level balcony. A top-grade Italian leather sectional, textured area rug, motion coffee table, wall art and other home accessories selected from Mia Home Trends' vast inventory was used to enhance the modern and trendy characteristics of the living area. The dining area features bold colors and styles seen throughout 2012 design trends and found within Mia Home Trends' Fort Lauderdale Showroom. This beautiful aqua glass and steel dining table paired with modern white leather dining chairs creates a unique and enviting mod-dining atmosphere.
Funky textures and patterns unite with muted tones to create a solemn portal to the land of serenity and slumber. The master suite features a minimalist design, with a charcoal gray modern platform bed, floating nightstands, and a few carefully selected acessories for added charm and interest. (Click on photos to enlarge)
(Click on photos to enlarge)